A Simple Tease
Brad teases Kylie's ass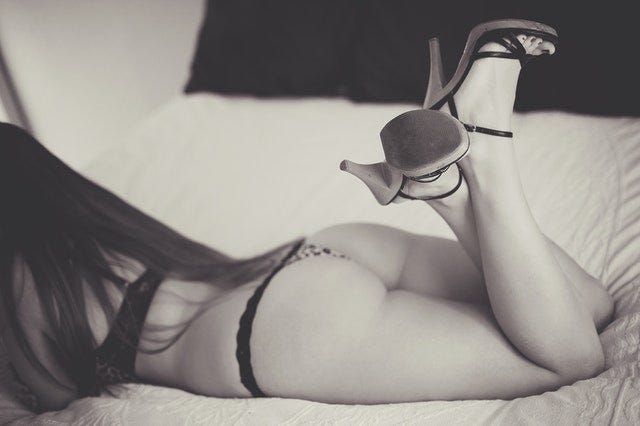 Brad returned from the bedroom with his new toy in his pocket. He checked on the chicken first, adjusting the temperature so he had a few extra minutes.
He turned and grabbed his girlfriend around the waist. He kissed her neck, his hand slid over her hip, across her stomach and inside her shirt. He teased her nipple until she melted against him. Then he gripped it between his thumb and finger and pinched until she whimpered.
"How's my good girl?"
"Good."
He gripped her ponytail and pulled her back. "I have something for you."
"If it's your dick, that's not anything new."
He pulled her hair harder. "Smartass." He walked her forward. "Hands on the table and bend over."
She complied, like the good girl. "I'm sorry."
"Sorry for what?"
"Being a brat." She couldn't seem to help herself. He might have to step up the punishment.
"We must have a night where you can be as bratty as you want. Tonight, there's punishment for it." He pulled up her skirt, exposing her bare ass to the kitchen. With no pretense or warm-up he slapped her five times. Her skin was red, but it wouldn't last long. His hand lingered on her, caressing her softness while he adjusted his plans.
She stood, but he pushed her down. "Stay there." He used his knee to nudge her legs apart. He could see evidence of her arousal on her thighs already. "You're wet already, my little slut."
She sighed, slumping against the glossy wood. "I can't help it. You smack me and my body knows what's coming next."
He slid his finger along her silken slit. "Perhaps I should just leave you there without touching you."
"Please don't." She whimpered, arching her back and pushing her ass toward him. So needy.
He bit back his grin and eagerness to tease her, to see her writhe and beg. "I won't, but not because you asked. But because it's my plan to turn you on."
He slipped a finger inside her, wetting his skin. He used the damp on her clit, flicking across the sensitive nub until she moaned.
"Stay there, I'll show you the new toy that arrived. One of them. I bought many, but we'll unveil the new toys slowly."
He reached into his pocket and pulled out the plug. He set it on the table within her view. "Is that for my ass?" she asked. He didn't know if he'd fucked her enough times or it was her arousal that erased her usual shyness. It had slowly been dropping, but the blunt question was unusual.
"It is." He picked up the toy and pressed it against her pussy. He used it to rub her clit then thrust the plug inside, fucking her with the silicone mini-phallus until she relaxed. Now she was open to have her ass filled, except... He dropped his hands away and she moaned, arching more in a silent plea. "I forgot the lube, hold that until I get back."
He went quickly to the bedroom, but when he got back, he found her wiggling the toy inside of her pussy.
He coughed and she dropped her hands away. "You're a bad girl tonight, little miss."
"I haven't seen you all week." He had his teenage daughter's for the week while their mother was out of town and explaining why their former babysitter was sleeping over with Daddy was out of the question.
"Poor little slut." He pulled the plug from her pussy and coated it with lube. He pressed it against her ass, wiggling it. She tensed and he paused.
"The lube's cold."
"It will warm in a minute. Push down a little while I push it in. If it hurts tell me." He watched the spot relax and he moved slowly until he was all the way in. He rubbed her lower back. "How does it feel?"
She wiggled her hips. "Okay. Strange."
He curled two fingers against her clit. "Better?"
She thrust back against him. "Much."
He removed his hand and smoothed her skirt down. "Stand up."
She stood stiffly. Her hand rubbed over her ass cheek. "That's it?" She bit her bottom lip.
"That's it until after we eat." Brad watched closely for a moment for true pain versus discomfort of something new. Anal was a novel exerpience for Kylie. He wanted it to be a pleasurable one, so far she'd enjoyed all their explorations. She stopped fidgeting and nodded. "Okay."
He kissed her cheek as the timer went off for the potatoes. The scent of her arousal rose over the smell of dinner they were about to eat. He was tempted to delay the food even further and lay her on the table and feast on her succulent pussy.
Later, he told his eager cock, hard in his pants from anticipation. Kylie was young and willing and they enjoyed filling each other's fantasies for the past few months. He patted her behind and summoned all his self-control to save the food from burning.
Kylie could barely sit on the chair while she ate the meal Brad cooked for her. She looked at the table top where just ten minutes ago she was pressed against the cool surface, while he teased her, then filled her ass with a butt plug. He'd been talking about owning her ass, he'd fingered her butt a few times during sex.
Every time she shifted, the plug shifted, plus her thighs were sticky from the teasing. She had almost lost her appetite for food. She picked at the meal while she normally loved what he cooked.
"What's wrong? Not hungry?" He grinned from behind his fork. "Eat up like a good girl and you'll get a reward."
She cut a piece of chicken off the breast and ate it. "Can we eat after we fuck?"
He shook his head. "This is part of you learning patience."
She nodded. He was training her to be a good submissive. And she was trying, but sometimes, like before he teased her, she slipped into what he called "brat Kylie." She was sassy, always had been, but with him it seemed more natural.
After they ate, he disappeared to the bedroom without a word. She started clearing the dishes, dying to know if he was getting the bedroom ready to fuck her. He came back holding something, it looked like a chain. Maybe it was a collar and leash? She didn't know. Kylie kept at her chore while watching him out of the corner of her eye. The chain disappeared into his pocket.
"See, I knew you were a good girl." He pulled her from her job and against his body. He kissed her, his tongue spicy in her mouth. His hands slid inside her shirt each caressing a breast, teasing her nipple with a soft touch. He rolled her t-shirt up from the bottom, to bare her breasts. She thought he might use his mouth on her but he pulled the chain from his pocket.
"What is that?" She tried to get a better look as he dangled the thin metal links in the air.
He grasped one end and lifted it to her chest. Nipple clamps, another toy he'd mentioned. This one was painful, but she loved pain from him. "Tell me if I set these too tight. I didn't close them all the way." He slipped a clamp onto her nipple and she gasped. "Too tight?"
The pain eased into a dull ache with a tinge of desire growing from where it pinched her. "I don't know."
The other one caused a gasp but settled into an arousing ache between her legs. She rubbed the spot above where it was latched to her. "It hurts but in a good way." Now they could get to the fucking.
"Good. We should get these dishes cleared up before we watch the movie."
Her jaw dropped open. "Movie?" He was going to leave her like this for an entire movie.
He grinned and she scowled. Bastard was fucking with her again. "We'll see how it goes."
By the time dishes were done, her pussy was throbbing. Between the plug and the nipple clamps, she was dying to get off. She might even beg him.
"If you crawl do you think your body will push the plug out?" he asked.
"It might."
"Try. Squeeze it in." She dropped to her hands and knees and followed him to the living room. She knelt on the floor by his chair. His hand sifted through her hair and massaged her scalp. "You are so fucking beautiful. Are you wet?"
"Soaked," she replied, easily. Quickly. She used to be shy discussing sex with him, but her desperate arousal erased any apprehension she might have had.
"Show me." She pressed her hand between her legs and gathered moisture on her first two fingers. He removed his pants and boxers and sat on the chair, his cock half-hard.
She offered her fingers and he sucked them into his mouth. She whimpered as his tongue swirled her fingers, thoroughly cleaning them.
Brad's fingers encircled her wrist and pulled her hand from his mouth, bringing it to rest on his cock. "You are wet. Seems I'm not as ready as you. I have been thinking about fucking your ass since the package came Wednesday. Are you ready for that?"
"If you think I'm ready." She fluttered her lashes as she curled her hand around his erection.
"I think you'll let me know if anything feels bad or painful. Seems you like having your ass filled."
"I do. Sir." He didn't demand the title, but it seemed appropriate for the moment.
"How about you suck my cock and get me hard?" It sounded like a question, but it was more like a command. One Kylie was always eager to fulfill. She was good at it, and he let her know he appreciated her skills.
She wrapped her mouth around his cock, pushing him deep in her mouth. He wrapped her hair around his hand, controlling her head, sliding her mouth up and down his length. Then he pulled her off with a pop.
She smiled up at him then dropped her eyes. Moment of truth was upon her. He put his hand under her chin and pulled her up. "Do you want this little miss?"
"Yes. I'm nervous though."
"Come sit on my lap, little girl." She crawled up on Brad's lap, which was a little uncomfortable with the plug and her growing need for release. "Give me a kiss."
She pressed her lips to his. He deepened the kiss and twiddled her nipple with one hand, his other pressed her thighs apart, fingers slipping across her inner lips, flicking her clit. He moved further back and wiggled the plug in her ass. She moaned against his lips, as her pelvis rocked.
"Good girl." He picked her up and carried her to the bedroom.
He laid her on the bed. "On your hands and knees my little slut."
Kylie turned onto her hands and knees, her thighs sticking together as she rolled. The friction of her thighs mashing her pussy made her skin bubble with excitement. She was so close to getting what she wanted: another amazing climax.
He eased the plug from her, creating a small tremor in her thighs that spread through her body. Her arms struggled to hold her up for a moment, but she caught herself before she fell and redoubled her efforts to stay upright.
When nothing happened for a long moment, she sought him with glances over both shoulders. He was covering his dick with lubricant from a half empty bottle. Tension raced through her as he looked at his size and considered how tight her body was. All the horror stories of anal hurting flooded her mind.
"I promise it will feel good. Better, amazing." He plunged two fingers into her pussy, finger fucking her until she was rigid with need.
"I know," she moaned, thrashing her upper body. "Please I need to get off."
"You will, I promise, but you must be patient." Brad held the base of his cock while he pressed against her ass. "Focus on pleasing me if that helps. Just like before, little miss, relax, tell me if it hurts."
Her strain was instantly replaced with content at the reminder to please him. She loved making him smile, making him come. "I'm ready, sir. Fuck my ass."
He smacked her ass with his free hand then slowly pressed into her. She squeezed her eyes shut and took a few deep breaths until he stopped moving when she was full of him. "How does that feel?"
"Good. Full." Pricks of passion snapped inside her. Good enough she could climax from this. She hoped she could, she was so taut with need.
"You feel tight, like you're hugging my cock, begging me fuck you."
"I want you to." Kylie wiggled, trying to urge him with her body as well as her words.
"You want me to fuck you?"
"Yes."
"Beg me." Brad's voice was a growl, as if he was barely holding on to his control. As if he needed to fuck her as much as she did. She loved when his composure cracked and he showed her his true feelings. He wanted her, he loved her, he needed her.
She swallowed as she sought the words that would please him. He twisted one nipple clamp untils he she squealed. Her cunt clenched and she pushed him deeper inside. "Please fuck me. Hard."
He twisted harder. "Come on slut. You can do better than that."
She gasped as the words flooded her head. Louder, she demanded, "Please fuck me, sir. Pound my fucking ass."
"That's my girl." He slid his hand down to her pussy and rubbed her clit, while he thrust slowly into her.
Pleasure blossomed in a place deep inside she didn't know existed. She pressed her ass up in the air, as she dropped to her elbows. The pleasure turned to straight need. She needed to come. She needed him to fuck her.
"I need you to fuck me hard. Please." She hoped that she conveyed the absolute need for him to take her.
He grabbed her hips with both hands and pounded into her. He grunted and groaned behind her while he took her. She used two fingers against her clit while she met his thrusts with equal force.
"Oh god yes, I'm going to come," she ground out.
He slowed. "Who owns your ass?"
"You do, Sir. Please I'm so close to coming. Don't stop." She whimpered.
"Say it again."
"You own my ass. And my pussy. And my mouth."
He rewarded her answer with a renewed fucking. And there it was, the pleasure exploded inside of her, like an earthquake. It resulted in a tsunami of sensation, overwhelming her. Her limbs shook. He caught her before she crashed so he could finish inside her. His orgasm didn't even register, but he must have had one because he eased her onto the bed. She couldn't stop shaking. Waves of hot and cold shuddered through her as she quaked.
Brad hovered over her. He spoke, but she couldn't hear it over the roar in her ears. She forced her arm up and patted him. He pulled her onto his lap. "Ky, hey baby. You okay?"
"I've never come like that ever. The first couple times I was with you it was pretty intense, but those times were nothing compared to this."
"So it was good?"
"It was very good. Fuck. I can't fucking move."
He moved her to the pillows. "I will get you a glass of juice. Do you want something to eat?"
Kylie shook her head. Once he disappeared she dropped onto the pillow. Fuck. She came back into her body and checked to see how she felt. Sore? No, stretched, gaping but not sore.
He came back and cuddled with her until she felt like she could move again. "It will hurt when I take these off," he warned, toying with the clamps still holding her nipples.
"I'm ready."
She wasn't. She squealed when he removed them. Brad soothed them with his fingers then his tongue. He pulled her close and stroked her, watching for signs of drop. They were both ready for sub drop now, the first few times it hit her hard. Now she was aware, but tonight she was good. Tonight, like every night, he held her and kept her safe. What more could she want?