Asrai`s Reading List June 13
a day late but close enough
Everything that inspired me this week. All links are NSFW unless otherwise noted.
[caption id="attachment_7285" align="aligncenter" width="300"]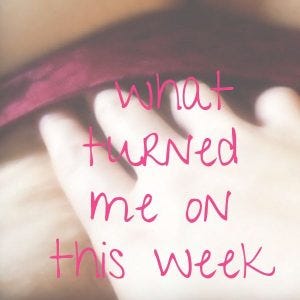 All right we're back to Interspiration, Sharing Our Shit Saturdays.
erotic
Take me to Church by Jenna Brown

The Sexy Librarian Visits The Countryside by @AuthorRowan

Watching from @coffeeandkink Damn this is hot.

Filthy Sweet. / from @fireandhoney These words go so perfectly together.

Look into the Camera by Anamika
Sinful Desires by @Boldly_Bipolar I love corruption and sin.
Such a great sexy follow up to the first story Second call from @LasciviousLucy
Indecent Proposal by Jenna Brown
informational
Create a sensual Goddess bath

Why Women should be more confident masturbating

Edging for everyone
self-promotion
"Sex, good old fashioned, kiss you, pull you down to the bed and strip your clothes off. kiss the sleek slit until you wrap your legs around my head and scream my name. Then slide into your wet depths until you are weak with satisfaction." On Call Stud, Part I
An explosive end to Megan's night with her fantasy man On Call Stud, Part IV
Troy only believes he has the upper hand at the office party, Jane shows him who is really boss Office Rivals