On Call Stud
Pleasure on call, satisfaction guaranteed...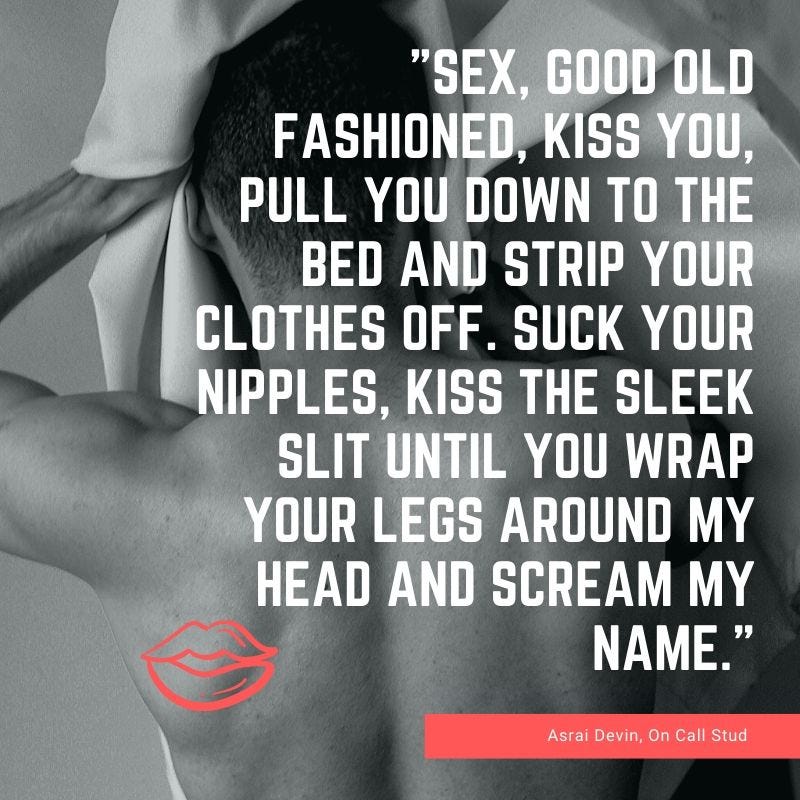 ---
"I need to get laid," I moaned into the phone.
"That's easy enough. We'll find someone, thousands of guys want to fuck Eve Brooks," my best friend Dane said.
"And then sell the dirty details to the tabloids."
"Not every guy will be like Dexter. There are good guys somewhere."
"I know, you're one but since you're committed to Tina, you and I can't date." I joked, Dane was my best friend.
"Sex toys?"
"Tried them all, not a good enough substitute for a warm body."
Dane took a deep breath. "I know a service, a discrete service."
"A prostitute?" I sat up, surprised the idea intrigued me rather than disgusted.
"Escorts, Evie."
"I didn't say I wasn't interested. How do you know about such services?"
"Don't ask, don't tell. It's a website, grab a pen and write this down."
"Nuh-uh, no paper trail." I put my phone on speaker and opened an incognito web browser page. "I'm ready."
Dane rattled off the URL, a random series of numbers with a dot com at the end. I hoped my virus software was up to date, but my phone loaded a website that read Hon Bun's and Stud Muffins. I clicked the latter link, with wide eyes. Call me naïve, I knew this service existed for men, but I didn't know there were guys selling themselves.
"Eve, are you there?" Dane's voice echoed through my empty living room.
"Yeah, you're sure this is okay?" I scanned the screen of headshots and names.
"Yes, I know people who... it's fine. Zero scandals."
"You're a lawyer, not a..."
"I fix things for my clients. Sometimes legally, sometimes it requires creativity. Eve, are you listening? I'll hang up and let you find Mr. Tonight."
"Uh-huh." I barely noticed his words and my phone beeped to announce the call ended, but Dane was right, I was distracted. There were a dozen stud muffins to choose from. All were hot, muscular, and mostly young. I tapped on a few profiles, college student from the Midwest, fucking his way through university. Okay, none of them were that explicit, but they implied it.
And hello Mr. Tonight appeared as Mr. Silver Fox, staring at me with grey tinged beard and dark hair. I tapped his name at the bottom, Maverick. Rip off from a movie much? I rolled my eyes as I read his profile. Expert masseuse, experienced in tantra, and former body builder who kept himself in top physical shape.
I clicked his gallery, there were typical acting photo shots and then... oh boy, nudes.
Read Part I to III on medium.
Or join my Patreon and read the whole story. Coming soon to my paid substack.