Red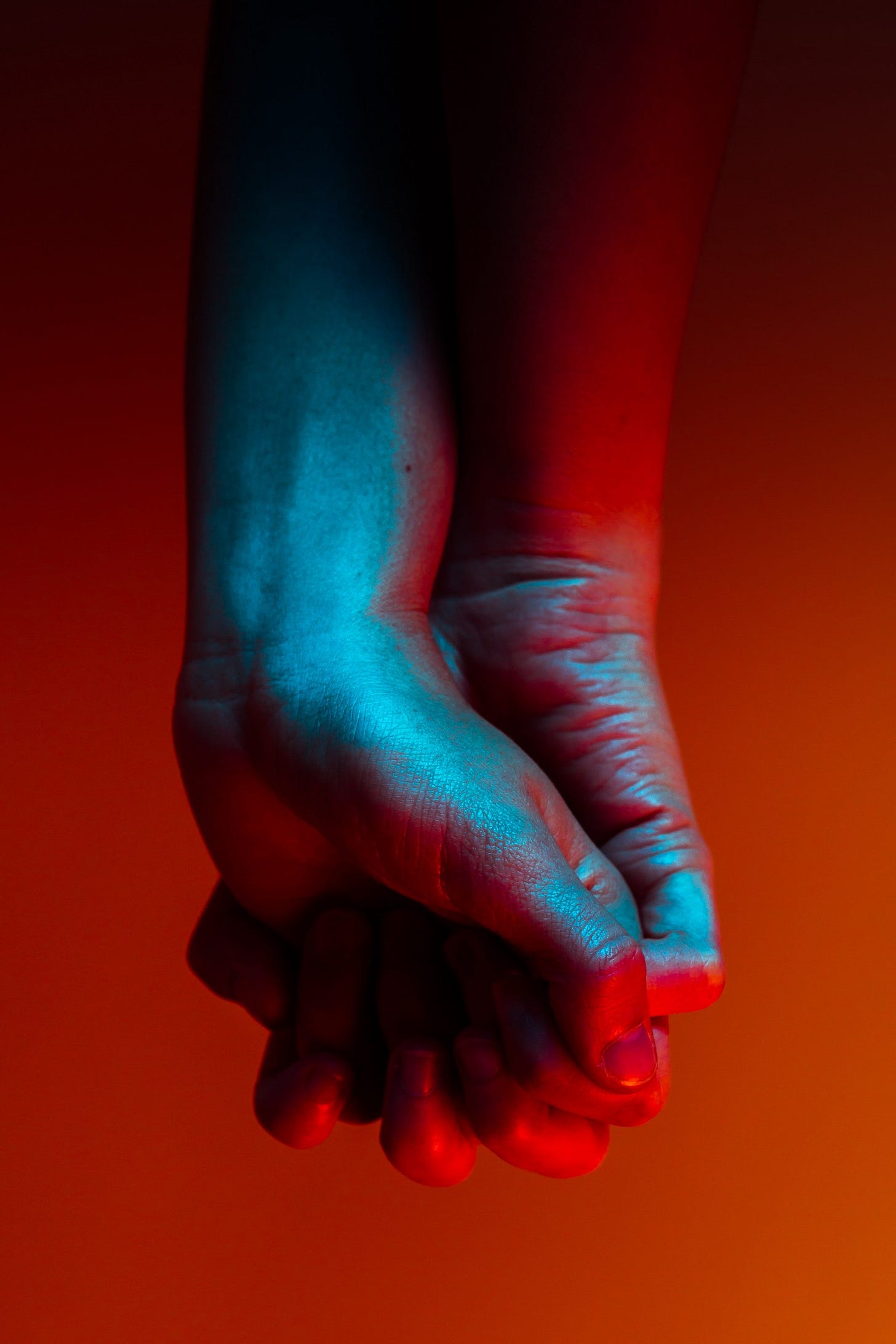 Photo by ian dooley on Unsplash
"Red," I choked out.
The cane Brad held dropped to the hardwood with a clatter. His weight next to me pushed the mattress down. He pulled me into his arms while I panted.
"Take a deep breath."
I sucked in a gulp of air..
"Pause, hold for five then let it out slowly." His fingers massaged my lower back.
My breathing returned to normal over the next few breaths. "Sorry."
He shook his head. "Don't be sorry. Tell me what went wrong. Too hard?"
"Too harsh. Your hand has a nice thud. The sting of the flogger is enjoyable. But the cane was like being stung by a hundred bees."
"I'm glad you stopped me. Should I get the flogger instead?"
"Yes, Sir."
I watched him put the cane away, retrieve the flogger, then I sighed with delight as he slapped me with the leather strands. I turned so I could watch him as he hit me. The pleasure he drew from the pain and submission was evident.
"My biggest issue is how turned on watching you makes me. I wanted the cane because you like the result."
Brad knelt on the bed and stroked my hair. His eyes sparkled like stars in my sky. "I love you, little miss."
My heart stuttered. He loves me? My body rose and I wrapped myself around him. His clothes scratched my naked skin. "I love you, too." He's twenty-two years older than me, my step dad's best friend, and my parents have no idea about our relationship. But all that mattered was that he loves me.
His hands were gentle as they stroked my back. "Oh baby girl, I am so lucky."
"How can I please you right now?" I asked. It's amazing how good I feel when I please him. I never imagined a relationship like this, but we are perfect.
"Kiss me, little miss. Undress me. Then we'll make love."
I pressed my mouth to his. I tugged at his shirt and he helped me pull it over his head. My fingers brushed the soft hair covering his chest. I love everything about this man.
Next, I worked the button of his jeans, deliberately fumbling so I bumped against his erection.
Brad growled, grabbing my hair. "Kylie, you are being a brat. I love you, but I will punish you."
"Sorry, Sir." I bit my bottom lip, contrition on my face.
He removed his pants and boxers. I stroked his dick, staring at it. I I loved the sight of him hard for me. "Suck me," he commanded. My body flooded with desire at the instruction. A chance to please him.
I lowered and wrapped my lips around him. He held my head and thrust into my mouth.
The thrusts slowed. "I'm torn between finishing between your pretty lips, so my cum drips down your chin. Or pounding into your pussy so we both come."
Either was fine with me. He wouldn't leave me frustrated. Or he might, but I'd enjoy that if it's what he wants.
He pulled from my mouth. "Stay on your hands and knees, but offer me your pussy."
I turned, arching my back. He slid into me so easy. I was always ready, my body molded to him now.
He pumped into me. His arm wrapped around me, pressing my clit. He knew exactly how to touch me to get me off. "Wait for me," he whispered in my ear, feeling I was close.
"I can't," I moaned, pushing back on him harder. "Please."
His fingers didn't let up. "Squeeze me and make me come then, little miss."
I contracted my internal muscles around him. His groans melded with mine. "Right there, like that." He pinched my clit as his thrusts stuttered from his orgasm, pulling me over with him. I closed my eyes, letting the ecstasy shake my limbs.
I fell to my stomach and he crashed beside me, pulling me closer. "I really do love you," he whispered.
"I really do love you back." I rolled over and looked at him. This is my forever.