The scene that spawned a book
First draft of Debauching Ally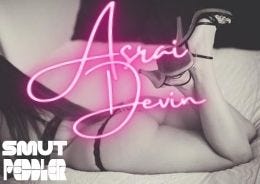 Ally Whitton pulled her oversized sweater tighter around her body. Mr. Hale was probably asleep but traveling all day left her parched. He came in from his date over an hour ago, and it was past midnight now.
She had slept over in this house fifty million times as a kid until she was a teenager. Only twenty-five million, her best friend Sarah Hale stayed at her place the other twenty-five million. If these walls could talk, they'd whisper all her secrets.
Like the major crush she had on Mr. Hale as a teenager. Even if he was Sarah's dad he was hot. She giggled to herself as she went down the stairs, like a bad girl thinking about a man she could never have.
Ally was too old for silly fantasy. Mr. Hale was doing her a huge favour letting her stay here while she had a couple job interviews. Her parents had moved out of town after she graduated, and she hadn't planned on returning. But the perfect job was here.
Mr. Hale rearranged the kitchen so she opened several cupboards before locating the drinking glasses. She leaned on the counter and let her sweater fall away to reveal her tank top and panties. While she drank the water, she imagined him walking in here. She knew in reality they'd be embarrassed but she could pretend she'd give him a seductive look and he'd kiss her.
She drank a second glass and disappointment set in as he didn't find her there. At twenty-four she shouldn't indulge in silly fantasies.
Ally wandered the dark house, remembering the silly thing she and Sarah did. The birthdays and sleepovers. She couldn't visit her family home, but this was just as good.
Light flickered from the living room. Mr. Hale had left the television on. She headed toward it to turn it off when she realized moaning came from the room. Had he left porn on?
She peeked her head into the room. There was porn on the big screen. And Mr. Hale on the sofa removing his pants.
Ally ducked out, but she heard him mutter, "Oh shit." The movie paused. "Sorry," he called.
She edged back in. "I'm sorry. I came for a drink and I thought you left the TV on. I came to turn it off. I'll go to bed."
"Do you want to join me?" He scoffed. "I'm kidding. You should go to bed. I should go to bed. My girlfriend couldn't spend the night, she has kids at home still."
Yeah great, then she'd be thinking about him two doors down, his dick throbbing under the covers. "You shouldn't go unsatisfied because of me."
"Do you have a boyfriend Ally?" he asked.
His eyes traveled down to her legs. She shook her head and pulled her sweater tighter, looking at her bare legs. "No boyfriend."
When she looked up, he was in front of her. "You were pretty as a girl. As a woman, you are beautiful." He tucked her hair behind her ear.
"Thank you," she stammered.
"This is probably perverted, but when you were hanging around here as a teen I wondered what you'd look like when you grew up."
Ally licked her lips as she looked up at him. That was perverted. Dirty old man.
"All you girls were pretty but I think you were the prettiest."
She moved closer as if he were pulling her. "Mr. Hale."
"When you turned eighteen, I was jealous of all the boys after you. It's why I didn't let Sarah have many boys over, I didn't want to see them touching my girls."
This got worse and worse. Had he…
"I touched none of you. You know, right?"
"Of course, Mr. Hale." Her heart may come out of her chest. The situation was dirty and forbidden and it was turning her on.
"Good. I never thought of Sarah that way. But that brings us to our current dilemma. What is under your sweater?"
She could only blink up at him, her energy focused on not overheating or collapsing.
"All you need to say is stop and I will. Okay, Ally?" His hands pulled her arms from where she crossed them over her chest.
"Okay, Sir." Please don't stop, her heart pounded and her eyes closed.
He pulled the sweater open and the dark air licked her body. "Black tank top that shows all your curves and black panties that tease men. Look at me Ally."
She opened her eyes, feeling dazed and dizzy. Mr. Hale pressed his hand against her belly and slid upward. He moved over her breasts over her shirt, he cupped one in his hands, massaging it. His other hand touched her knee, then slid up until it nestled between her legs. His palm rested on the steady throb.
She realized he had no pants or shirt on. Just a pair of black briefs, which highlighted his erection. She stared at it, stunned.
"Are you a virgin?" he asked, because she froze in place.
"No, Sir. Just nervous. Because… it's you."
The hand between her legs stayed, the other one moved to grab her chin. He held her while he kissed her, his hot tongue speared her mouth, catching her and reeling her against him. Both his hands were on her ass, pulling her up into his trap.
She took a deep breath and surrendered herself. Her mouth opened, her body pressed closer, her hips cradled his erection. "Mr. Hale," she breathed against his lips.
"Keep calling me that," he replied. He pushed the sweater off her and pulled her hair back. His mouth came down hot on her shoulder, kissing and licking and biting up her neck. "Ally, Ally, my sweet Ally."
Mr. Hale eased away, leaving her cool and regret seeping in. He would call an end to the game, and she wasn't ready. Neither emotionally nor physically.
Instead he picked her up and carried her to his spot in the living room. He settled her on his lap, her back against his chest, legs over his. He hooked his thighs on the inside of her knees and pulled her open.
"How many times have you sat on my sofa and watched a movie?"
"It was a different sofa," she replied, her voice rough.
"And the movies were tame."
"Sarah and I watched your movies a couple times. We giggled about how corny they were."
"Did you ever consider I was jerking off while I watched them?"
Ally swallowed hard. "Maybe."
"Tell me, please." His finger tickled over the crotch of her panties.
"Yes. I thought of you. I wondered how big your… thing was. It made me feel funny thinking of you that way."
"I always knew you were a bad influence on my daughter. I should spank you for watching my dirty movies when you were underage."
Ally's belly clenched.
He laughed. "You like that idea. Later. First, we will watch the rest of this movie."
"I stole one of your movies," she confessed. "I brought it back a couple weeks later."
Mr. Hale rubbed her inner thigh. "I knew one of them went missing. What was your favorite part?"
"Back then, seeing the woman suck the guy's dick. It always fascinated me."
"You can show me after I make you come." He rubbed her pussy through her panties. "My bad little Ally is so very wet."
She spread her legs and pressed back against him. It was in this house she got a taste for porn, one that fueled her sexual exploration in college. But she centered her fantasies on older men and young women. Sometimes barely legal girls, sometimes men with greying hair. Mr. Hale was greying around the edge now. His trimmed hair, beard and moustache all had a touch of silver. He'd be a silver fox soon.
One hand rubbed her clit while his other pulled up her tank top to bare her breasts. He teased her nipples with soft circles, then sharper pinches.
"Your favorite part is coming up here. We need to get rid of your panties though. I want to sink my fingers into your juicy cunt."
Ally hoped she'd get more than just fingers, tonight. Or before she left town after her interview. The removed her panties in a tangle of hands and fingers, working together. She rocked her ass on his lap feeling his erection jump behind her.
"She's choking on his dick now, you'd better pay attention. Take notes for when I'm done with you."
He held her hips with one arm and rubbed her clit with two fingers. She looked at the screen as the big breasted woman slurped and moaned her way around the guy's giant erection. The guy on screen praised her mouth.
Mr. Hale's fingers thrust into her pussy. They curled against her inner walls, making her jolt. "Ride my hand, Ally." His thumb rubbed over her clit as she rocked on his fingers.
She broke as he whispered her name in her ear. Her pussy spasmed and she jerked on his fingers. Moans loosened from her throat as she lost herself in pleasure.
Fuck. Mr. Hale, her best friend's Dad, practically her second Dad, just finger fucked her on his sofa. And he wasn't done with her.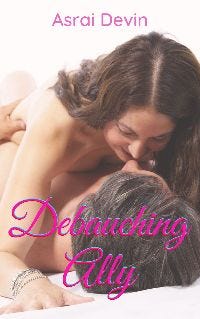 Illicit Thrills...

Ally has never been comfortable around many people, but the Hale family was an exception. And Mr. Hale has starred in her taboo fantasies for longer than she remember. She's been hiding it for years, so she can do it for one more day. Except that she can't resist her naughty impulse to climb in his bed while he's out for the evening.

Forbidden Desire...

Logan knows Sweet Ally is off limits. She's too young, too shy. And too sexy to resist when he catches her with his pants down. He takes a chance and kisses her. When he touches her, he finds that beneath her cool exterior is a fiery passion.

Indecent Fantasies...

It starts off as a game of sharing fantasies, they know it can't continue. But neither of them are willing to stop until it's too late


Get it on Smashwords presale for 99 cents using promo code PK83J


Preorder on Amazon or available on Amazon Kindle Unlimited September 13