Total Control: Club Sin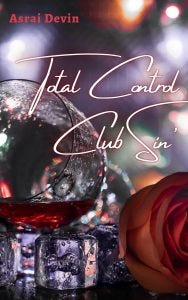 Total Control: Club Sin
Wanted: Total Control
I am a professional man, age 43, seeking a woman age 30-40 to be under my sexual control. Impact play, pain tolerance, light bondage and total submission required. Possible long term arrangement.
When Emma Sharpe found her boss' personal ad, she submitted herself for the position. The story continues:
Emma Sharpe follows her boss turned Dominant lover for a night of Sin. They start with a beautiful dress, amazing food and good wine. And end with excruciating pain and agonizing pleasure. Joel Thomas pushes her physical, mental, and emotional limits while rewriting the terms of their agreement.
Emma begins to wonder if submission was a mistake, or if she can follow Joel Thomas's plan to keep their relationship purely sexual.
Sequel to Wanted: Total Control
On Kindle Unlimited
---
Tease
I licked my fingers and flipped through the pages Mr. Thomas had dropped on my desk twenty minutes ago; he took with him any hope he'd let me leave early. I gave up trying to understand him eleven days ago, when he took me home, fucked me, then abandoned me. He picked me up the next morning for work as promised, but everything was professional between us. He didn't hint at the amazing orgasms we shared, the way he dominated me, or if he planned to fuck me again.
An instantly recognizable curt tap on my door made me glance up. I opened my mouth to invite him in, when the door opened before I spoke. He strode into the room as if he owned it, and he did. I was at his mercy inside or outside the office. I ran my eyes over his tailored suit, my mind recalling what he looked and felt like under the expensive cloth. While I looked him over, he was looking at me, assessing me. He dropped a bag on my desk, right on the papers he'd dropped earlier. I glared up at him, but his eyes were like diamonds, hard but glittering, something I wanted to possess, and I felt my gaze instantly soften. I swallowed my annoyance, hating that I conceded, that I wanted him despite the coolness between us for almost two weeks.
He stared down at me and I licked my dry lips three times before I could speak. "What's in the bag?"
"Your outfit for tonight."
"My what?"
I choked, because I couldn't fathom how he obtained an outfit without my assistance. "Okay…" I grabbed the bag and pulled it toward me, dying to know what was inside. Leather? Lace? Would it be something I could wear in public or just for him? Fingers pushing through the delicately wrapped tissue paper, red material was all I could see before his voice caught my attention.
"How long will you need to prepare yourself?"
I looked at the bag, then at him. His look hadn't changed from stormy, demanding, wanting, but still cool and detached. Joel Thomas gave orders and was used to having them followed without question. But I needed a little more information before wearing an unseen dress and following him. "Sir?" My tongue darted out again as I tried to form a question under his scrutiny.
"You are in charge of my calendar, surely you saw my evening plans. Dinner and attending a private club."
"Yes, but I didn't know I was to accompany you."
"Do you still want to give me total control over you?" Over the desk I saw his shiny shoe tapping the floor, a sign he was losing patience, in a moment he'd cross his arms over his chest, then his lips would press in a thin line, and his voice would darken to match his eyes.
I swallowed. "Yes." Was that embarrassing squeak my acquiescence? "If my makeup is sufficient, I can be ready in ten minutes."
"I don't care about your makeup, Miss Sharpe. I'll call my driver to the front. Ten minutes." He looked at his watch then exited the room, the door closed behind him echoing in the sudden absence of his demands and dark stares. Dinner? Where would we go? Private club? What kind of club?
I gasped as I realized what sort of club he meant to take me to.
A sex club.
---